Secret Agent PRO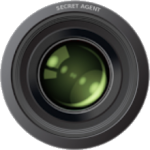 DESCRIPTION
Secret Agent is an app that includes a lot of useful tools and mimics in style a secret agent handheld device.
The following tools are shared with the free version:
A flashlight featuring an SOS-mode.
A set of camera filters: infrared, thermal camera, security camera.
Device diagnostics: memory, CPU, GPU and battery information (temperature, voltage, charge) and much more.
An handy compass.
Spectrum Analyzer… visualize sounds in realtime with a spectrogram.
Secret audio recording.
Satellite tool: GPS and GLONASS satellite position with radar and earth map, current address and specific satellite information.
Sensor data including magnetometer, orientation, acceleration. On supported devices you can read temperature, humidity, air pressure and dew point.
A nice wifi scanner analyzing frequencies and wifi signal strength.
Chance to launch these tools from an handy widget!
Secret Agent PRO adds the following features:
no ads
save realtime camera pictures in HD
secret video recording tool (selectable front or back camera)
QRcode reader
morse code text player
LED icons courtesy of tehkseven – www.tehkseven.net
Compass graphics based upon Diego Monzon's free compass – www.dmonzon.com
DOWNLOAD
Buy from Google play.
REVIEWS
TuttoAndroid Review
AndroidWorld Review

GALLERY
VIDEO