Scopa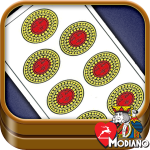 DESCRIPTION
Scopa (Sweep) is a classic eurpean card game (also known as Scopa, Skopa or Escoba).
The goal of the game is to collect the cards on the table. You can take a card by playing a card of the same rank of a card on the table or if the rank matches the sum of more cards on the table. An extra point is awarded to the player that takes the last card(s) on the table. "Cleaning" the table from all cards is called a scopa (to sweep in italian), hence the name of the game. You can read all rules in detail here.
The game features 13 decks*, 5 different difficulty levels, 5 tables and 3 card back colors.
It is rendered using OpenGL ES 2.0, through an updated version of a proprietary framework/engine I developed.
Other features are full support for WiFi Direct/Bluetooth/Google Play Games multiplayer. Leaderboards and Achievements are also supported, synched on different devices through google cloud save.
* All decks in the application have been kindly provided by Modiano Spa (http://www.modiano.it)
REVIEWS
AndroidWorld Review

DOWNLOAD
Download from Google play.
GALLERY